Back to Blog
Data Insights
Jellyfish Study Finds Engineering Leaders Overestimate Resources Available for Roadmap Work by 62%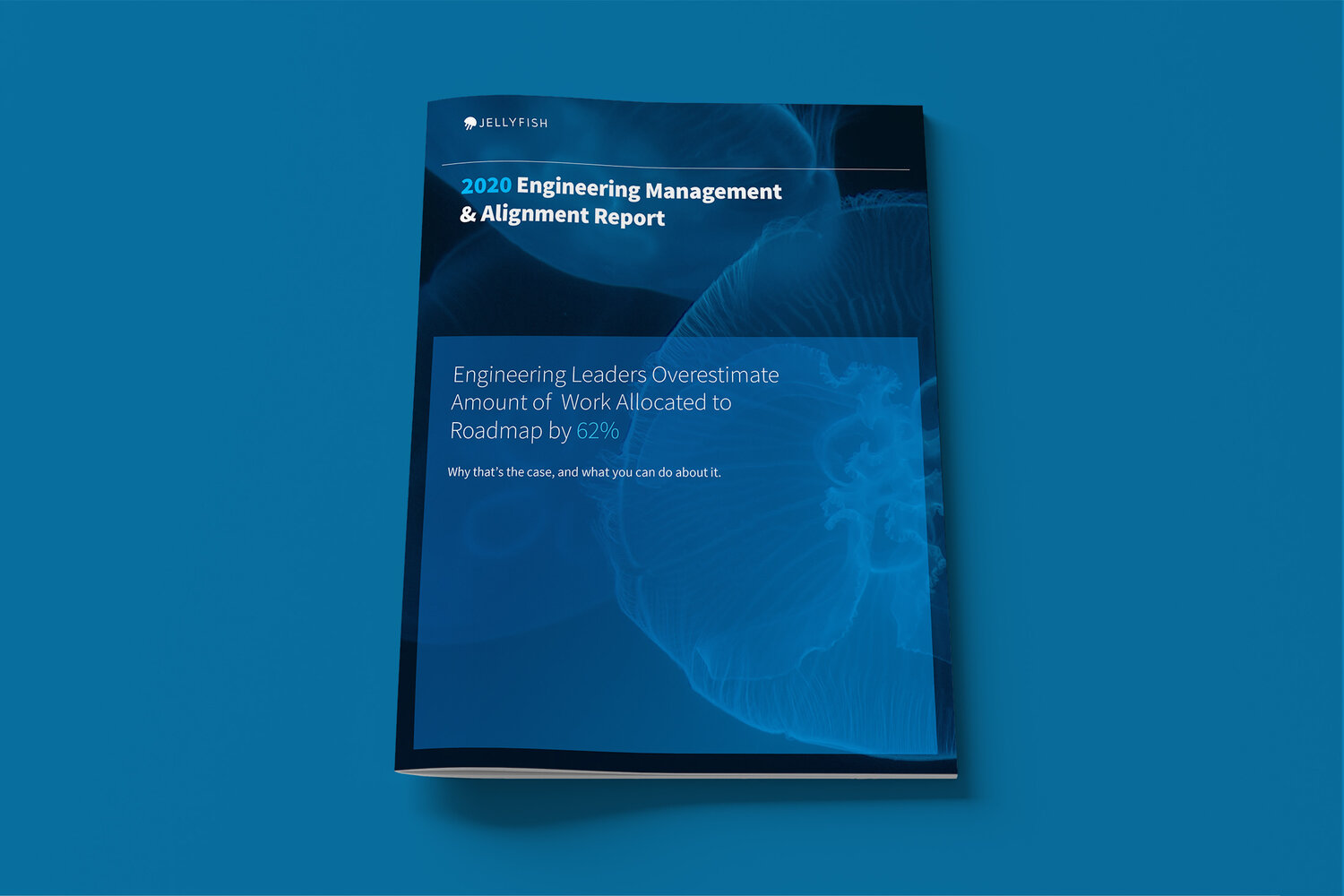 We hear a lot about the challenges of leading large engineering organizations, and how burdensome it can be to keep a pulse on everything that's going on both day-to-day, and at an executive level. To clear things up a bit, the Jellyfish Data Science team set out to find out just how much of a challenge this really is. The answers they found were quite surprising.
The Data Science team at Jellyfish analyzed anonymized data from over 4000 engineers across dozens of engineering teams and found that there's a fairly significant gap in understanding between what engineering leaders (Directors, VP's, and CTOs) believe is being worked on, and what engineering teams are actually spending their time on. The data shows that engineering leaders overestimate the amount of time and resources going into the roadmap by a whopping 62%! While leadership estimates 59% of engineering resources are dedicated to new product and feature development, in reality only 36% are available for this.
Poor Visibility Makes Alignment Difficult
The core problem uncovered by this study is that engineering leaders have poor visibility into what work is being done and how it's allocated. Combing through a tool like JIRA to figure this out becomes unsustainable at scale, so many leaders simply rely upon what their direct reports tell them. This is made worse by the fact that, as our study shows, almost 25% of engineering efforts are not documented or labeled well enough for leaders to qualify how the work should be allocated. Is it roadmap work, necessary infrastructure work, customer support, or maybe production issues? Without a more complete understanding of what work is being done, how can engineering leaders take corrective actions and ensure the right projects are being prioritized?
Digging a little further into the data, our team found that this visibility problem was indeed worse for engineering teams that are older (greater than 10 years) and larger (greater than 200 engineers). This is not altogether surprising, given the reality that these teams are the most likely to have been affected by things like acquisitions, multiple business units, or the dynamics of a distributed workforce, all of which can make visibility more difficult.
Great Visibility Is Now Easier to Achieve
But the team's findings are not all bad. Some of the teams analyzed were truly high-performing and had significantly closer alignment with the business and resources allocated to strategic roadmap work. To learn more about how and why engineering leaders tend to overestimate the amount of resources they can and will devote to new feature work, and best practices for making sure your teams don't follow the same patterns, download the report here.
And to find out about how Jellyfish's Engineering Management Platform can help you gain the visibility and alignment you need to be a high-performing engineering organization, learn more on our website.
Back to Blog